Alertas de calidad
Peligros de Abastecimiento en Asia 2012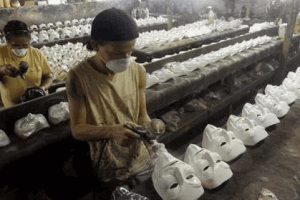 Peligro de abastecerse en Asia # 1: Correo electrónico del proveedor hackeado
Cada vez vemos más y más profesionales en el abastecimiento de Asia siendo estafados donde una empresa independiente hackea el email del proveedor y convence al comprador de enviar dinero a una cuenta privada. En noviembre del 2012 una compañía Francesa envió un depósito de 29K USD a lo que ellos creían era su proveedor con el que llevaban varios años trabajando. Para cuando el comprador y la fábrica se dieron cuenta de que habían sido estafados, la empresa independiente ya había cerrado la cuenta de banco y desaparecido con el dinero.
Soluciones:
Tener mucho cuidado lidiando con individuos que usan cuentas de correo electrónico como @yahoo, Gmail o correos electrónicos locales como 163.com
No hacer ninguna transferencia de fondos hasta tener un contrato u orden de compra con firma. El nombre que aparece en el contrato debe ser una empresa (no una persona) y debe coincidir con el nombre de la cuenta de banco e idealmente deberá coincidir con el nombre de la fábrica o licencia (si es que se lidia directamente con el fabricante).
Peligro de abastecerse en Asia # 2: Ninguna indemnización en caso de retraso en los bienes finales.
El proveedor no cumple con la fecha de entrega y el comprador no tiene ninguna indemnización.
Solución:
Asegúrese de tener la orden de compra o el contrato firmado. El contrato debe estipular penalizaciones previamente acordadas en caso de retrasos. Por ejemplo si la orden está retrasada por "X" días entonces "Y" descuento será hecho. Si no se cuenta con un acuerdo previo de penalización, será muy difícil negociar una solución. En muchos casos es mejor tener un contrato bilingüe por escrito y con la supervisión de un abogado local.
Peligro de abastecerse en Asia # 3: El proveedor se roba las herramientas personalizadas del cliente.
Muchos importadores son propietarios de diseños o moldes personalizados y requieren que sus proveedores utilicen estos moldes y herramientas. La mayoría de los clientes son precavidos y tienen contratos con respecto a la propiedad de las herramientas. ¿Pero qué pasa cuando la herramienta se deja con el proveedor? Hemos visto casos en el que el proveedor utiliza la herramienta para producirle  material a la competencia. También hemos tenido proveedores que han cerrado fábricas en un corto periodo de tiempo y liquidan dichas herramientas antes de que el cliente se entere que su herramienta estaba en riesgo.
Solución:
Tener un contrato detallado de propiedad y de uso aceptable de las herramientas.
Mientras se visite al proveedor asegúrese que revisa las herramientas.
Considere almacenar las herramientas con una empresa independiente entre las corridas de producción.
Peligro de abastecerse en Asia # 4: Proveedores poco profesionales y sin licencia en China.
Como hemos mencionado en las semanas recientes, cada vez han aparecido más y más empresas de Control de Calidad que no son profesionales y que no cuentan con ninguna certificación incluyendo la licencia AQSIQ por sus siglas en inglés (Admission of Quality Supervision, Inspection and Quarantine) . De cualquier forma la mayoría de las empresas todavía no cuentan con esta certificación requerida. Esta licencia asegura que se está trabajando con una empresa de buena reputación y un manejo adecuado de sistemas de calidad.
Solución:
Asegúrese  de que su socio de Control de Calidad cuente con la licencia AQSIQ. Revise y vete compañías de Control de Calidad tal cual lo haría con proveedores potenciales antes de trabajar con ellos, es un importante paso en su abastecimiento de Asia.
No dude en contactarnos si está buscando ayuda o referencias según sus necesidades en China y a lo largo de Asia.