Inspection Process
6 Dates To Know When Manufacturing Before Chinese New Year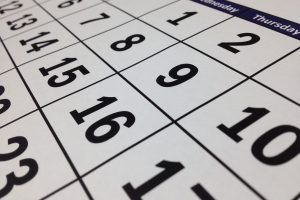 Chinese New Year holidays are almost upon us. February 15th is the official starting date which means that all factories will close, and nothing will enter or exit the facilities until the end of the holiday period. To
protect your supply chain and avoid any disruption to your order when manufacturing before Chinese New Year, you need to plan ahead to ensure you will be able to ship your goods before February 15th.
Dates you should know about when manufacturing before Chinese New Year
Until when can you ship your goods?
You should have your products ready for shipment ten days before the
official public holiday. Otherwise, there is a high chance that you won't be able to ship your goods until the end of the holidays, in early March 2018.
When are factories closing and opening again?
Dates are specific to each factory. However, from our experience, no workers may be available to do the job between approximately February 8th and February 28th. That said, you should always include a few days buffer just in case you need to get the goods sorted or reworked before shipping. i.e. Your supplier can only deliver the reworked products on February 8th. If later, you can be sure that either you don't receive your goods because they remain in the closed factory or you get the substandard goods they initially inspected, as they did not have time to improve anything.
When should you place your order?
Well, that depends on your supplier's production capacity and availability during that period, along with the size of your order. The latest you can realistically place an order is around mid-January, so there's not much time left! Therefore, if you already know that you will need goods for the upcoming spring season, you should consider ordering now.These dates may vary depending on your supplier's location and production capacity during the holiday period. Some suppliers are well organized and may inform you in advance. That's exactly how we managed to provide you with this information. If your supplier hasn't told you yet, we highly recommend you send him an email to clarify the main dates that could affect your plans for manufacturing before Chinese New Year.
Here is a template you may use to get in touch with your suppliers and verify their CNY holiday schedule:Dear [supplier name],We are planning to place a new order with you which should be shipped before the Chinese New Year holiday. However, we are not fully ready, and we would like to clarify how much time we have to send it to you. Therefore, may I ask you to confirm your:
Factory closing date:
Factory opening date:
Deadline to place an order for a shipment before CNY:
Last shipment date:
Deadline to place an order for a shipment after CNY:
First shipment date after CNY:
What about your third-party QC partner?
Third-party inspection companies based in China do not close for more than a week most of the time. At AQF, we remain available to perform inspection services at the factory or forwarder's warehouse until February 14th, 2018. However, we highly recommend you plan your inspection services ahead during that period as you are not the only one in a rush and workload is high. Also, consider having discussions with your third-party quality partner about the best quality control strategy to implement, knowing that quality risks increase during that period and lead-times are not extendable.

Photo from pixabay.com
Keywords: