Processus d'inspection
6 dates à retenir pour fabriquer avant le Nouvel An chinois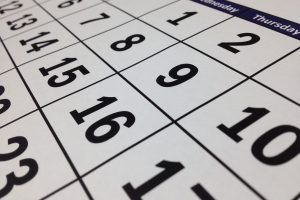 Les fêtes du Nouvel An chinois approchent à grand pas. La date officielle de commencement est le 15 février, ce qui signifie que toutes les usines fermeront et que rien ne rentrera ou ne sortira des sites de production jusqu'à la fin des festivités. Afin de
protéger votre chaîne d'approvisionnement et d'éviter toute interruption des commandes que vous faites fabriquer avant le Nouvel An chinois, vous devez planifier à l'avance, afin de vous assurer que vous serez en mesure d'expédier vos marchandises avant le 15 février.
Les dates à retenir pour savoir quand fabriquer avant le Nouvel An chinois
Quel est le dernier délai pour expédier vos marchandises ?
Vos produits devraient être prêts à être expédiés dix jours avant la date officielle du début des festivités. Dans le cas contraire, il est fort probable que vous ne serez pas en mesure d'expédier vos produits jusqu'à la fin des vacances, au début de mars 2018.
Quelles sont les dates de fermeture et de réouverture des usines ?
Les dates sont spécifiques pour chaque usine. Néanmoins, d'après notre expérience, aucun ouvrier ne sera disponible pour travailler entre le 8 et le 28 février (approximativement). Cela étant dit, vous devriez toujours rajouter quelques jours additionnels juste au cas où il serait nécessaire de trier ou de retravailler les produits avant de les expédier. Prenons un exemple : votre fournisseur ne peut vous livrer les produits retravaillés que le 8 février. Si la livraison est plus tardive, vous pouvez être certain de ne pas recevoir les produits parce qu'ils resteront enfermés dans l'usine ou vous obtiendrez des produits de qualité inférieure tel qu'indiqué dans votre premier rapport d'inspection, en raison du manque de temps pour effectuer une quelconque amélioration.
À quel moment devriez-vous passer votre commande ?
Cela dépend des capacités de production de votre fournisseur, de ses disponibilités pendant cette période, mais également du volume de votre commande. Au plus tard, votre commande devrait être effectuée mi-janvier, il ne vous reste donc plus beaucoup de temps ! Si vous savez déjà que vous aurez besoin de produits pour le printemps prochain, vous devriez donc passer votre commande maintenant.Ces dates peuvent varier selon l'emplacement et les capacités de production de votre fournisseur pendant la période des vacances. Certains fournisseurs sont bien organisés et pourraient vous informer à l'avance. C'est justement de cette façon que nous sommes parvenus à vous fournir ces informations. Si votre fournisseur ne vous a pas encore informé, nous vous recommandons fortement de lui envoyer un e-mail afin de clarifier les dates importantes qui pourraient affecter vos projets de fabrication avant le Nouvel An chinois.
Voici un modèle que vous pourriez utiliser pour contacter vos fournisseurs et vérifier leur calendrier pour le Nouvel An chinois :Dear [supplier name],We are planning to place a new order with you which should be shipped before the Chinese New Year holiday. However, we are not fully ready, and we would like to clarify how much time we have to send it to you. Therefore, may I ask you to confirm your:
Factory closing date:
Factory opening date:
Deadline to place an order for a shipment before CNY:
Last shipment date:
Deadline to place an order for a shipment after CNY:
First shipment date after CNY:
Qu'en est-il de votre partenaire externe pour les contrôles qualité ?
Les entreprises d'inspection tierces basées en Chine ne ferment généralement pas pendant plus d'une semaine. Chez AQF, nous restons disponibles pour effectuer des services d'inspection chez le fournisseur ou dans l'entrepôt du transitaire jusqu'au 14 février 2018. Toutefois, nous vous recommandons fortement de prévoir vos services d'inspection à l'avance pendant cette période, car vous ne serez pas seul à en avoir besoin dans cette période de forte affluence; la charge de travail est élevée. Envisagez également de discuter avec votre partenaire-qualité tiers, de la meilleure stratégie de contrôle qualité à mettre en oeuvre, en sachant que les risques augmentent pendant cette période et que les délais de fabrication ne peuvent pas être prolongés.

Keywords: