Quality Management
What is a corrective action plan after a factory audit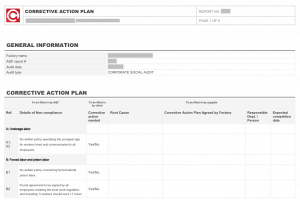 The CAP (corrective action plan for a factory audit) is a key to help suppliers to improve. A CAP can be issued after a factory audit, whether it is a technical, social or environmental audit. The Corrective Action Plan after a factory audit should be prepared whenever a factory audit identifies any non-conformities.
Advantage of a corrective action plan after a factory audit
The great advantage of a CAP is to give a clear structure to suppliers and buyers to
Identify the most important shortcomings
Understand the root causes
Assign a responsible person
Propose corrective actions
Reach goals within time.
What if the factory doesn't know how to do a corrective action plan?
Third party auditors should summarize shortcomings found during an external audit. To support manufacturers, third parties can propose a sound and efficient structure for the corrective action.
Factories are actively involved in improving themselves. The supplier is asked to identify the root causes of non-compliance, to propose corrective action and assign a responsible manager. With the goals of improvement easily identified, the responsible manager ensures that deadlines are met.
The CAP can be understood as capacity building for the supplier for sustainable improvements.
How making sure the supplier will implement the corrective action plan after a factory audit?
Follow-up audits should be conducted as soon as a number of improvements are achieved. The buyer should ensure the follow-up, in cooperation with its third party inspection company most of the time, to gauge progress at the factory.
And you: how do you help your suppliers become better? How does your corrective action plan works?
Keywords: