Testing and Standards
WEEE regulation for importers and manufacturers in China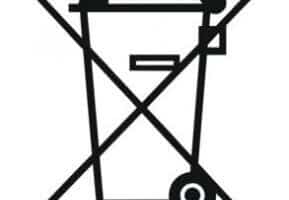 The WEEE regulation is represented by the black and white crossed bin which means that the product should subject to a separate collection at the end of life. It refers to the standard EN 50419 which is applied to all electric equipment since august 2005. Most of us recognize this image and find it on all product exported from China however do we really know what is the WEEE regulation for and what are the requirements of the WEE regulation for importers and manufacturers in China?
WEEE regulation – general presentation
WEEE means Waste Electrical and Electronic Equipment. The scope of this regulation, in accordance with Article 1, is to "standardize the recovery processing activities of WEEE to promote comprehensive utilization of resources and circular economic development, and to protect the environment and safeguard people's health".
It applies to equipments powered by electricity or through electromagnetic fields and designed for use in a voltage not exceeding 1000 volts AC and 1500 volts DC.
Refrigerators, Room air conditioners, Household electric water heaters, Water dispensers, Televisions, Monitoring equipment, Computer monitors, Fluorescent lamps, Lead-acid storage batteries, Lithium-ion batteries, Microcomputers, Printers, Printer supplies, Copiers, Copier supplies Scanners Mobile communication devices, Telephones, Fax machines, Washing machines, Electric fans, Kitchen ventilators, Rice cookers, Electric pressure cookers, Microwaves, Soy bean milk machines Juicers, Household gas water heaters.
Get a deeper understanding of the WEEE regulation by downloading this guideline!
WEEE regulation for importers and manufacturers in China
The manufacturers should comply with the WEEE regulation by optimizing resources while producing the electric equipment but also by using components that allow an easy recycling at their end of life. In case of presence of any toxic and harmful substances, he is obliged to indicate it on the product or instruction manual. It is also the importer responsibility to check if those requirements are respected.
Manufacturers and importers are both encouraged to set up an organization that allow the recycling of their own products. This is usually done via a third party processing enterprise. To finance such product recycling process, they must pay a fee: importers are paying for it on the same time than making their import declaration.
While performing an inspection on WEEE regulated products, the inspector can check the presence of the crossed bin on the product, the presence of a warning message about the toxic or hazardous components, and the recycling processing enterprise code (if already defined). To do so, buyers should clearly mention those details in the purchase order to the supplier and the third party inspection company.
And you: what do you know about the WEEE regulation for importers and manufacturers in China
Keywords: