Inspection Process
Verify the CDF (constructional data form) of electrical appliances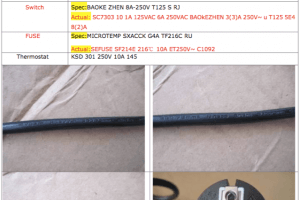 Electronics imported into the European Union require importers to store documentation about the product for ten years. This information includes a technical construction file. Therefore, some laboratory tests must be performed by notified body laboratories. To do so, most importers use approval samples for testing however they are unable to assure that the sample tested in the lab is as per the produced and imported goods. In other words: how can buyers verify the constructional data form?
Inspections vs. laboratory testing to verify the CDF (constructional data form)
The constructional data form lists all critical components of an electrical product with additional information as per EN 60335 or other standards. The CDF is often compiled during the approval period of a product design: before mass production.
During the mass production of the goods, Chinese and Asian suppliers are known to change designs and parts (usually to reduce costs). To verify if the CDF applies also to mass production, there are two options:
Expensive option: to make new tests via a laboratory of production samples picked up randomly by an independent QC inspector.
Cheaper option: to check the internals during a product inspection by requiring the independent and expert inspector to open up the electronic device to verify the presence of all components listed and tested during the initial laboratory test.
Internal construction check during product inspection to verify the CDF
The on-site internal construction check as per standard EN 60335 for electrical appliances can identify changes made by the supplier, leading to non-conformity. Only few samples will be construction-checked: special inspection level 1 is usually applied.
When a CDF is not available for inspection, all critical components should be recorded during the inspection, including pictures for prove.
And you: how do you verify the CDF for your imports from China and Asia?
Keywords: