Purchase Process
The art of giving business cards in China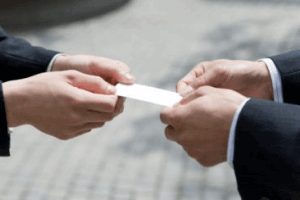 In order to better communicate with your Chinese supplier or Chinese vendor, you should know how to give and receive business cards in China.
See below the 10 rules about giving and receiving business cards in China.
With these steps in mind, you will leave a good first impression and your Chinese business partners will be impressed with your manners and knowledge of a somewhat confusing (for Westerners) cultural practice.
The 6 rules to follow when you give business cards:
Make sure you have enough: being out of stock is bad: Bad for your reputation, bad for your credibility, bad for your "face".
Protect your cards: They should be spotless, so it is better to store them in a box.
Write one side in English and the other in Chinese.
personally give your cards to anyone surrounding you, even if there are a lot of people. Do not leave a box for people to pick it up!
Start with the person the highest in the hierarchy; If you are not sure: start with the oldest.
Give your business card with your two hands, with your name facing the person (so he or she can read) and bow a little your head.
The 4 rules when receiving a business card:
Take the card someone gives you with your two hands !
Take the time to read it (and to understand the name, title and duty of the person)
File it properly inside a noble place or in a box… Not in you back pants pocket!
Do not write on the card, at least not in front of the person.
Any other tip? What do you think?
Keywords: