Testing and Standards
Textile color fastness tests: ISO 105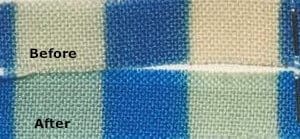 The first time we started to talk about textile colorfast was in 1916. It is an old story in the textile industry! Since then some standard tests have been created to detect color bleeding issues. Recently the issue has been detected in several shipments, including shirts, suitcases and even sneakers. How can we test textile color fastness?
On-site check for color bleeding
During a standard product inspection, the textile inspector performs the rub test. To do so, he rubs a white cloth against the material with sufficient strength . The rub test should be done first with a dry cloth, then with a wet cloth. The color transfer is then compared with a grey scale.
Off-side color bleeding test
Several procedures exist to check the textile color fastness off-side. The most popular is by washing the item in a washing-machine, "label wash", with a white cotton cloth. Before and after washing, the textile quality controller takes pictures of the white cloth and the critical areas where two colors are close to each other. Then he compares it against the grey scale.
Textile color fastness testing in a laboratory
The samples should be sent to an official laboratory to obtain the most reliable results based on standardized procedures. The laboratory will perform textile color fastness tests according to different materials. This testing method is defined by the norm ISO 105 and includes:
Water

Washing (using different programs)
Perspiration
Rubbing
Dry Cleaning
Each of these tests costs less than $50. They assure the products are sellable after shipment and storage.
And you: would you like some additional information about those tests?
Keywords: