Purchase Process
Sourcing in China more securely : the purchase order role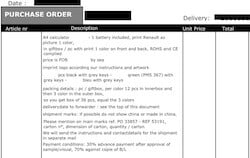 We all know that sourcing in China starts by selecting the right supplier. However, even the best supplier is able to manufacture the wrong product quality with an incomplete purchase order. As a matter of fact, a good purchase order influences the production quality and more surprisingly the inspection result!
Sourcing in China: the importance of a detailed purchase order
The buyer knows the product better than anyone. He should "pre-digest" the product specifications to prepare a clear purchase order. All the important details for the importer should be mentioned. This way, the buyer helps the supplier in better understanding its requirements and expectations. It reduces the risks of misunderstanding.
The better the input is, the better will be the output.
A good purchase order for a reliable inspection result
Sourcing in China also involves quality controlling the goods during the production and before the shipment. The purchase order details helps the inspector. The inspection company or the buyer's QC needs clear information to prepare the inspection protocol.
The more the inspector understands the product and the order specifications, the more reliable is the inspection result.
Purchase order preparation
Main information to provide
Quantity and references involved
Product specifications
Labeling & marking
Packing & packaging
Payment term
Other specifications that make the difference
Special points to improve
The supplier should be aware of this requirement, and the QC should be informed in order to carefully check the improvements during the inspection.
Suggestions for on site testing if any
The supplier needs this information to prepare the testing tool for the inspection, and the QC to know he should perform the test.
Quantities ready for inspection:
Exemple: less than 80% of the goods are ready, the inspection result is failed.
The supplier will pay attention, specially if the payment term mentions the condition of a PASS inspection before payment. The QC should also know in order to provide the right inspection result.

And you: did the purchase order already influenced the quality of your sourcing in China?
Keywords: