Inspection Process
Sampling for inspection: packed, unpacked goods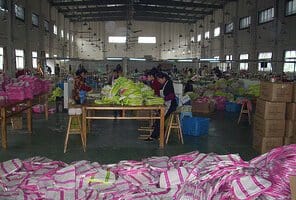 We already learned about the production level limits during a pre-shipment inspection to ensure its reliability: "Pre-shipment inspection: production level". There is another important condition to take into consideration: the way the sampling for inspection is done.
During the inspection protocol preparation, the first step is to identify the sampling size, based on the AQL table. The second step is to define is how the sampling for inspection should be done.
Sampling for inspection: where to pick the samples from?
This is a very important question which is usually neglected by the buyer. The sampling size must be picked on finished goods: the ones packed in priority, and unpacked if available. When ordering a during-production inspection, or a pre-shipment inspection, it is advisable for the buyer to specify the quantities of the packed and unpacked goods required at the time of the inspection.
Case study: sampling for inspection procedure
For an order of 5'000 products, a pre-shipment inspection is booked under the following condition: 100% of the goods finished and 90% packed. It means that when the inspector arrives at the factory, at least 4'500 pieces should be finished and packed. The remaining quantity should be finished and unpacked.
Based on the AQL level II, the most commonly used standard level, the inspector inspects a sampling size of 200 pieces as below:
180 pieces picked from the packed and finished goods
20 pieces picked from the unpacked and finished goods
These conditions are the advised standard procedure, however each importer has its own and some may prefer to only focus on the finished and packed goods. He should just mention it when booking the service.
In case the quantities agreed at the time of the booking are lower when the inspector visits the factory, the QC has the responsibility to mention it clearly in the final inspection report to inform the buyer.
At the end, for a reliable inspection, the most important aspect is that the quantities produced and packed available for inspection are the ones agreed with the supplier when booking the quality control service. On the contrary the result of the inspection can be erroneous, especially for the pre-shipment inspection, as explained on last Wednesday article.
And you: do you mention your conditions to your supplier and third party quality control company partner?
Keywords: