Quality Alerts
Rana Plaza, Prevention actions & Social Audit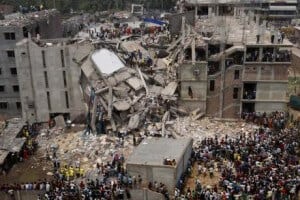 Lately, Bangladesh went through tragic moments. An accident in Rana Plaza textile factory costs many people's life. AQF team would like to express its condolences to all the families affected by Rana Plaza accident.
One of the causes of the accident seems to be related to the building construction quality.
We need to learn from Rana Plaza dramatic situation, how could this be prevented?
Performing a Social Audit based on the SA8000 norm is a good solution. Indeed, in the section related to environmental health and safety, a specific question concerns the physical and structural integrity of all inspected buildings. The auditor has to answer to it when visiting a factory.
However, one audit only may be not enough. Companies are constantly evolving: the management team changes, the machineries can be damaged or replaced, the buildings are getting older, etc., it is important to visit and audit your supplier's factories as regularly as possible.
Did you know about this particular detail regarding social audit?
Feel free to share your thoughts on the Rana Plaza atrocities or your experience on the most suitable prevention solutions by leaving a comment!
Keywords: