Purchase Process
Quality of products made in China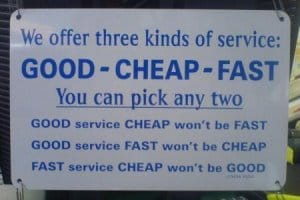 How often do we hear: "this is made in China, it is cheap and quality is bad"? Over the years the bad reputation of the quality of products made in China has become worse. Large scale scandals, nationally and all over the world, reinforced it. However, this reputation is partially right nowadays
Good, cheap and fast
As a matter of fact the above picture illustrates very well why the made in China products quality can be so bad. Fast, cheap and good are three incompatible conditions. One always has to be sacrificed:
Good quality products at a low cost are usually associated with a slow production speed: with less workers and more time to pay attention to the production process, the manufacturer can better control the quality.
Good quality products with fast delivery always involve higher costs: the manufacturer needs more workers to be able to assure product quality and shorten the production lead-time.
A fast service on a cheap product is usually synonymous of quality problems. Otherwise the buyer is being lucky.
Current reality of the quality of products made in China
This article: "Chinese smartphones could be helping to ease the 'Made in China' stigma", shows the current problematic faced by the Chinese manufacturers: they are seen as suppliers of low quality products. However this image is wrong: all kinds of product qualities can be sourced in China:
The smartphone industry is producing in China, especially famous brands.
Luxury brands also manufacture their well-known products in China.
High quality consumer goods are very often manufactured in China too.
Chinese manufacturers have had to go through a long process to be able to produce high quality products. They needed to acquire the know-how, to train qualified workers, and to develop good infrastructures.
Buyers can purchase high quality products made in China. However all depends the conditions requested. Regardless, many other factors can affect the quality of the products made in China even at a fair price and reasonable delays. The buyer should regularly audit the factories and inspect the quality of the products during production and prior to the shipment.
And you: what are your expectations regarding the quality of products "made in China?
Keywords: