Quality Management
Client Success Stories: Quality Control on Shoes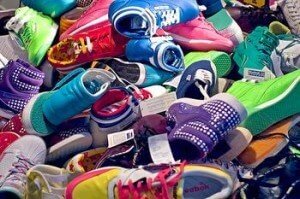 Here at AQF, our goal is save our customers both time and money by providing reliable and flexible quality control services. For an importer, there is nothing worse than receiving a shipment of goods from Asia that is full of defects, which you can't return. Rather than having to throw away an entire shipment because it is unsellable, our clients have decided to spend a few hundred dollars upfront in order to avoid large potential losses.
Back in 2011, one of our clients, and American company importing shoes from China, decided to perform a Pre Shipment Inspection. This type of inspection, one of our most popular, takes place when between 80-100% (depending on the client) of the products have been produced. During this inspection we cover everything, from AQL (Acceptable Quality Limit), workmanship, safety and functionality, quantity, assortment, colors, measurements, weights, labeling, logos, packaging, and any other specific requirements the client may have.
In this particular case, our client had produced about 500 pairs of shoes, so according to our AQL tables, we examined about 50 pairs of shoes during the pre shipment inspection. The client's instructions were quite simple—they wanted to make sure the shoes were well made, no glue or stitching was showing, the colors matched their specifications, and the logo was spelled correctly and placed in the correct spot. Seems pretty straightforward right? Unfortunately not.
The products failed the Pre Shipment Inspection, because the number of major and minor defects exceeded our limit. Some of the defects we found included: burn marks, asymmetrical toes, holes, wrinkled insoles, stained laces, missing Velcro, scratches on the soles, and color that rubbed off when the shoes got wet. Clearly, the client was not happy with the state of the quality of the shipment. However, what to do next? No one wants to wear defective shoes, so the client needed a way to improve the quality of their goods. This is where our Defect Sorting Service comes in.
About a month after the original inspection, after the client had spoken with the factory and asked them to fix the defective products, our client booked a Defect Sorting Service. In this service, after the factory had claimed they fixed all of the problems, our inspector knows exactly which defects to look for, and inspects as many products as possible. In this case, every pair of shoes was inspected. This time, the client gave more detailed instructions, asking us to make sure all shoes had the correct logos, no toes were asymmetrical, no shoes had burn marks, the inside of the shoes were not wrinkly, missing stitches had been corrected and the laces did not have stains.
In our second inspection of every single shoe, we still found defects, such as a few untrimmed threads and small dirt marks, but the number of defects was even lower than when we had only checked 10% of the shipment. In the end, our client was satisfied with the reworking the Chinese factory had done, and accepted the shipment. Instead of receiving an unsaleable lot of shoes, our client profited from this shipment of shoes. Through our experience, we have found that many of our clients first perform a Pre Shipment Inspection, then upon seeing undesired results perform a Defect Sorting Service. Sometimes, even multiple Defect Sorting Service inspections have to be performed in order to achieve desired quality. However, this is a small price to pay in order to ensure that you are receiving quality goods!
Check out the rest of our inspection services here.