Quality Management
Quality Control's 3 I's: Independence, Impartiality & Integrity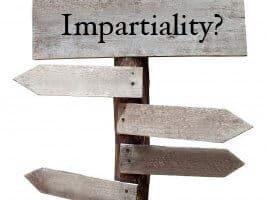 One of the important reasons why buyers send a 3rd party quality control company to inspect their shipment is for the ability to provide independent, impartial service in total integrity. Indeed, this part of the Quality Control process is an important one; the buyer, especially when he is not available, must have a high level of confidence in a QC partner.
Indeed, the international reference standard for quality control inspections companies, ISO/IEC 17020:2012, requires the following:
6.1.12 All personnel of the inspection body, either internal or external, that could influence the inspection activities shall act impartially.
All 3rd QC company personnel must be free from any commercial, financial and other pressures which might affect their judgment. (Another reason Why Sourcing and QC Do Not Mix) Factories, vendors and other external persons or organizations should not be able to influence the results of inspections carried out.
At the best inspection firms, all inspectors sign a very strict code of conduct and are obviously forbidden to receive bribes or gifts from the factories they inspect. While this is the case, these inspectors should still be followed up with very closely to ensure good behavior and ensure impartial results. When there is pressure from a supplier to influence the results of inspections carried out, you must know that your inspector will directly inform his management who will inform the you as the client.
To be able to keep quality control inspectors in check, these are some important actions to take:
Manage them closely; keep them well supervised.
Offer good incentives and good conditions of work for inspectors.
Conduct significant due diligence when hiring inspectors (both internally and when using a third party).
Keep your inspection team part of the company and excited to work for you
Have frequent On-site Internal Audits and follow up on inspectors' work on a daily basis.
Pay attention to special cases and scenarios that may lead to attempted bribery by factories.
If you want to ensure integrity, independence and impartiality, it is important to either extensively train and manage your internal QC team or to work with a reliable third party quality control firm.
When using your own internal team, be aware that the close acquaintance of your own staff to the factories may be a risk which could affect judgments when performing inspections.
Keywords: