Inspection Process
Carton Humidity Testing: Vital For Your Quality Control in Asia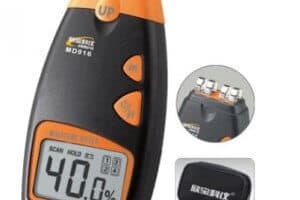 About a year ago, we blogged about "Protecting your imports from humidity" which discussed the humidity of your containers and the importance of loading your containers with good quality desiccants. No one wants to receive moldy or rusty products! Check out that article for various ways on how to avoid damage caused by humidity and suggestions for highly quality desiccants. Humidity tests can be done in a high-tech laboratory, but how can your inspector check your carton's humidity level to ensure that it is not damp before shipping?
To do this, inspection firms use humidity testers, or moisture meters. This tester detects humidity by attenuation of the micro wave's energy on a sensor-based tester and by resistance between two metal pins on pin-based testers. While this may sound complicated, it essentially means that in both cases humidity is being tested based on the amount of resistance found.
Different humidity testers are necessary depending on different types of packaging, such as wood or cardboard. As wood and cardboard are different materials, they have different densities and capacities to absorb water, and also have a different volume of attenuation of the micro wave's energy and resistance that is transmitted through the humidity tester. Asia Quality Focus is able to perform humidity tests on a wide variety of packaging materials.
Here at AQF, our inspectors can generally perform humidity tests during Container Loading Inspections. We highly recommend this test if you are worried about the packaging of your goods. While you may have performed extensive quality control and product inspections, if your products are damaged during shipping, you can still end up with useless goods. If you're thinking about doing a Container Loading Inspection, ask us about the possibility of a humidity test!