Quality Alerts
Qingming Festival for factories and inspectors in China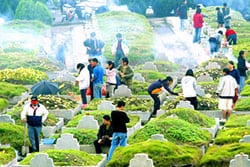 From April 5th to 7th, Chinese people celebrate the Qingming Festival, included in the official public holidays in China. Factories and inspectors in China are also on holiday (included the AQF team). It is a special moment to spend with the family and enjoy the spring outing especially with the ones that are gone.
Qingming Festival origins and meaning
Also called Pure Brightness Festival or Tomb-sweeping Day, Qingming Festival comes from the Hanshi Day (寒食节, literally, Day with cold food only), day when Jie Zhitui died, in 636 BC. He was a follower of Duke Wen before he became a Duke. On the day of Wen's 19 years anniversary of exile, because they were not food, Jie Zhitui cooked a delicious meat soup using a piece of his leg. Once He Jin became a Duke, he decided to reward Jie Zhitui who was hiding in the forest with his mum. As he couldn't find him, he decided to burn the whole forest to make him come out. Unfortunately, he died burned. After this sad ending, King Jin decided that only cold food could be eaten on that day to honnor his memory.
Traditions
After the years, Qingming festival evolved, and besides eating cold food, other traditional customs arises:
Tomb sweeping: people use to go to the cemetery to commemorate the family members that are gone, cleaning the tomb, bringing flowers, personal items, envelopes with money, fruit and others.
Climate change: Qingming is one of the 24 Solar Terms in traditional Chinese culture, when the weather starts to warm and the plants start to rise, as a sign that spring is coming. It is the right time to go out with the family and fly kites, a well-known habit in China.
Qingming Festival for factories and inspectors in China
During the Qingming Festival, factories and inspectors in China are usually reducing their activity during the weekend. However, they should all be working in normal conditions on Monday, April 7th. Each supplier has different ways to respect the public holidays; the buyer should carefully check with its manufacturer for possible delivery delays, third party inspection company to check the inspectors availability in China, and logistic partner for the shipment schedules.
Remark: besides China, this festival is also popular in Hong Kong, Taiwan, Macau, Indonesia, Singapore, and Malaysia
And you: What do you know about the activity of the factories and inspectors in China during Qingming Festival?
Picture from foreignerinformosa.typepad.com
Keywords: