Purchase Process
Purchase Order Guidelines For Imports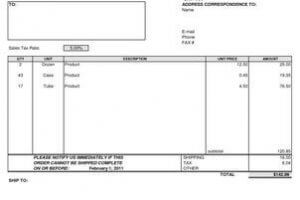 After problems with their suppliers, many people then look to their Purchase Order and discover issues within. After a botched order, buyers are left wondering where to turn next? Many people end up contacting Quality Control firms after such a problem with a supplier. However, in many cases the issue is that they did not take the time to write up a proper Purchase Order.
Writing a detailed Purchase Order between you and your supplier is a must. Purchase Orders are business forms designed to enter detailed information for a purchase or sale of goods and services. A Purchase Order, also called a requisition or PO, is a vital part of the financial and accounting aspect of business. Templates are invaluable when learning to write a purchase order.
Some important information must be included in the Purchase Order, such as:
PO Number: A unique pre-stamped number assigned to each order form.
Name of Vendor: The name and address of the supplier or buyer.
Phone Numbers: A contact person, fax and phone number.
Name of Other Suppliers: Used when a third party will supply the merchandise.
Ship To: The name of the party that will receive the service or merchandise.
Destination: The address where the item will be shipped or received.
Description: This line includes: Item name, stock number, unit price, quantity and total.
Terms: The dates given to receive items or payments.
Signatures: The designated person or persons authorized to approve transactions.
Date: The date the item was requested and PO signed.
Quality Control requirements: Indicate a sentence like "Vendor is responsible to deliver the goods based on the samples and the information here under in this Purchase Order which will be inspected by my third part inspection company. Payment will be delivered only after Pre Shipment Inspection performed by agent/ inspector/ QC company."
A signed PO is a binding legal agreement between parties for goods or services. Make sure before signing to be 100% positive that your Quality Control requirements are clear. Accept changes in writing only with a date and signature.
Need more info? Check out the CSIC for more great articles and info including: How to place an order with a supplier in China while living somewhere else?, Chinese Purchase Order (PO) formats/templates for large and small orders, A small buyer placing orders with Chinese Suppliers: contracts, travel, and other issues.
Keywords: