Quality Management
Production Samples for Textiles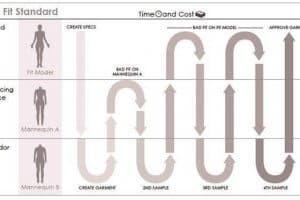 Li & Fung, the largest sourcing company in the world, plans to remove 50,000 production sample prototypes in their creation process of clothes, saving millions of dollars (the cost of a prototype is estimated at 1,500 Euros and 4,000 Euros of work). How? Li & Fung is working with Alvanon to improve its production system and its supply chain team modeling reference.
Garment creation involves the participation of many actors (design teams, sourcing agents, suppliers, factories, etc.) at all levels of the production chain. These actors are geographically dispersed, do not speak the same language and have different ways of working. To this is added the fact that the volumes of clothing are difficult to transcribe and communicate in 2D. It is necessary to refer to 3D.
The production of a single piece of clothing is a long and expensive process, which on average takes:
– 4.1 production sample prototypes before validation
– 12 weeks of validation before they can start production
To decrease the amount of time and resources involved in developing new products, companies must BOTH ensure that processes are optimized and that there is proper implementation of effective 3D modeling tools.
In order to ensure process optimization
| | |
| --- | --- |
| Key issues | Solutions |
| – Sizes and measurements vary from one collection to another, from one garment to another. | – One person in charge of measurements, with the power and the means of enforcing them. |
| – The measurements of the target customer and gradations are old data. | – Ensure that measurements are accurate, current, clear. |
In the past, to control garment measurements before the factory started mass production of the production sample prototype, the sample would be sent to the sourcing office and sometimes the brand office, where it would be tested on mannequins and / or live models. It would then be returned to the factory, which would adjust the prototype based on the comments and then return to the client again – and so on until the prototype is validated.
However, this is clearly not a time-effective model. Experience shows that it is much easier to outfit the headquarters, sourcing offices, Quality control offices and factories – if possible – with the same reference model. Thus, you can see automatically if the garment fits properly to the model or not – in which case you can proceed with necessary adjustments. It is a common tool for all the actors in order to reduce or avoid imprecise controls.
If all of these tools are used and properly managed, the average number of prototypes needed and weeks of validation are greatly decreased, to 1.8 prototypes and 8 weeks.
Keywords: