Quality Management
Product Specifications: What Should They look Like?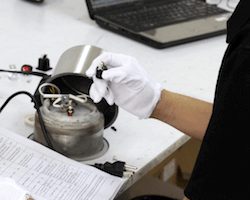 For every product inspection, a list of product specifications and requirements is necessary to check if products are meeting requirements. This information is one of the most important factors in a 3rd party inspection company performing their inspections well.
Serious inspection companies already know the basics to check for each product they inspect. However, in addition to that knowledge, each buyer has his or her own requirements depending on the final customer needs.
For example a box for a premium French pastry brand will not have the same level of quality expectations as industrial chocolate boxes. It is very important to transpose these expectations into well-defined specifications; otherwise there may be misunderstandings between the buyer, the factory and finally the inspection company.
A technical specification is a document that defines a set of requirements that a product or assembly must meet or exceed. A product or assembly that does not meet all of the specifically expressed requirements does not meet the specification, and often is referred to as being out of specification or "out of spec." Product specifications are used when a contract for technical products or services is issued. The technical specification defines the requirements to fulfill the contract. Use these tips to learn how to write a technical specification.*
So how do you make sure your product specifications are going to be well understood, digested and actually representative of your requirements?
Avoid using "it" or "which", and clearly specify what is being referred to in the text.
Use the word "shall" to define a requirement. Requirements expressed as "shall" must be fully and properly met.
Use short and direct sentences.
When you have dimensions or weight requirements for example, don't forget the tolerances (+/-) and the measurement method.
For color specifications, use color standards such as Pantone references.
Specify the conditions under which the item must meet the product specification. If reduced performance of the product or assembly is acceptable at extreme temperatures and humidity, note this on your product specifications.
Define the jargon and abbreviations that are common within the industry. To clearly define industry terms, add a definition section at the beginning of the specification.
For any tests specified, always indicate which standard to be used or describe clearly the measurements to be done (Material, Conditions..)
Don't use your approved sample as a product specification; this should be used as further support. (Some customers say "I want the same as the approved sample." But be careful, these kind of subjective requirements may lead to big misunderstandings.)
Finally, double check and read your product specifications critically. Pretend you are new in the industry. Even pretend (from the factory's viewpoint) you are seeking to minimize cost by circumventing the specification as much as you can.
 *Wikipedia