Quality Management
When to do Product Inspections?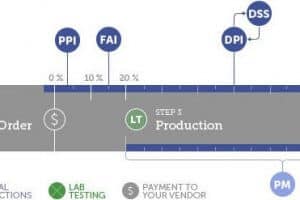 When to do Product Inspections? 95% of the inspections that I see are Pre-shipment inspections. While these are of course a useful and necessary service, this is not enough to ensure great quality.
Simply put, if there are quality issues, they are not caught until right before loading, which is usually too late to put in place corrective measures.
I always try to stress to my clients the value of inspections both early on in the production process and before shipment. When inspecting early on, an inspector can not only catch the problems, but also provide feedback in enough time for proper corrective actions to be made.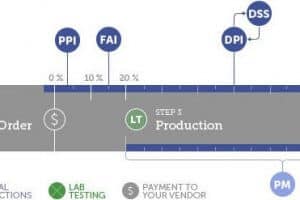 Early QC Product Inspections: Pre-production
A Pre-production inspection provide a clear vision of the production schedule and get ahead of any possible incoming problems, which could affect the quality of your goods.
Most of the time, the main reason for production issues and poor quality is not the know-how of the factory but rather the misunderstandings between you and the manufacturer which often come from culture and language differences. This inspection will allow you to get past this communication gap and make sure both parties understand each other.
First Article
(also called Initial Quality Control), usually happens right after the manufacturer starts producing the first mass production samples.
An inspector will visit when 1% to 10% of your ordered quantity has been produced. It will help you to find a solution if there are any production problems at the beginning stage of manufacturing. It will let you have the time to take action on your production process if necessary.
During Production
The inspector will visit in the middle of the production process and will check if the quality of products reaches your standards and is on schedule.
They will inspect the actual production volume to avoid any delays in your final shipment. At this stage, you can still modify the production protocol and still be on time with your order in case of problems.
To sum up, a major risk is to let the factory make mistakes and get past the point of no return. If you need any advice regarding the most suitable services for your particular situation, don't hesitate to contact us.
Keywords: