Testing and Standards
On-site tests during a furniture inspection related to BS EN 581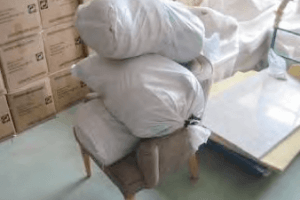 During a furniture inspection a wide list of tests are performed in order to check the product usability and conformity to the buyer's requirements. Also, some of the tests are determined based on the BS EN 581 safety requirements. The on-site tests during furniture inspection related to BS EN 581 are as followed:
On-site tests during a furniture inspection related to BS EN 581
Static loading test
If no special requirements from the buyer is specified, the third party inspection company usually performs the static loading test as followed:
Loading weight 1300N for chair; loading weight 500N for table;
Test procedure: Loading 1300N/500N for 10 seconds (+/-2s) x 10cycles + 30 minutes (+/-10 seconds) x1 cycle
Mechanical Safety Requirement: the QC inspector checks if there are no fractures or any joint, member and component, no loosening of joints intend to be rigid and if the the seating fulfills its function after removal of test loads
Clearance check
For the accessible tube opening and holes, they should be covered with caps.
For the accessible gaps, the inserted depth can not be more then 10mm when perform the push test with 7mm or 12mm probe under 30N force in a direction; and the probe can not be pulled out by 30N in backward direction.
For the clearance between 2 movable parts, the distance should be in 7mm~18mm after loaded with body weight
Assembly check
This test allows to check if the product is easy to assemble as per the instructions indicated in the instruction manual. It also checks the product stability and safety after assembling.
Real performance check
This test simulates the use of the furniture by an adult as per the instruction manual and maintenance information. Moreover, it requires to perform sitting or lying tests several times to check it the product remains the same afterwards.
Moisture content check
The solid wood parts of the furniture should get a humidity level between 8% and 12%. To perform this test, the QC inspector uses the humidity test.
Instruction requirement
The instruction manual should be written in the destination country language at least, and should have mentioned the phrase " IMPORTANT, RETAIN FOR FUTURE REFERENCE: READ CAREFULLY" with a minimum height of the words of 5mm. In addition, the instruction manual should include the name and address of the producer (the supplier or manufacturer), the information regarding maintenance and the conditions for use of the product (camping, domestic or contract).
And you: what other on-site tests during a furniture inspection related to BS EN 581 would you recommend?
Keywords: