Testing and Standards
Official CE logo and fake laboratory CE certificate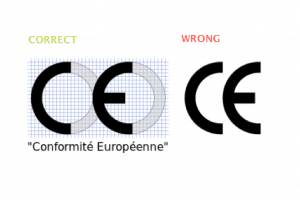 The CE logo of the European Union is often modified, rumors even say that there are two similar logos, one means "China Export". In addition some "smart" labs are experts in offering "special" CE certifications. Let's find out how to differentiate a real and fake CE logo, as well as a testimonial about the sad reality of fake laboratory CE certificate.
About the CE logo of the European Union
The CE marking means "Conformité Européenne" or "European Conformity". It states that the product meets EU safety, health and environmental protection requirements. In the European Commission website, all buyers can get information on how the process of affixing the CE marking on a product works.
How to recognize the official CE logo of the European Union
To recognize the CE logo of the European union, we should carefully look at:
The three branches of the letter E: the central one should be shorter.
The space between the C and the E: it should be quite big.
The rumor saying there are two CE logos, one for the European Union and one for "China Export" is wrong. Only one CE logo exists.
Fake laboratory CE certificate testimonial
A recent testimonial surprised the AQF team and confirmed some fraudulent methods employed by local Chinese laboratories. During an interview with the technical lab director of a renown accredited Chinese laboratory used by many factories, he confirmed the existance of a real business around the fake laboratory CE certificate:
"It is a 100% Chinese company, no bonus, and not a serious work: we do almost only fake CE certificates. When factories ask for CE certificates for some electrical appliances, the lab provides them without even seeing the sample! A report is made without any pictures but with all references related to the product to make it look real. Of course the price is much lower than with famous lab… this type of CE certificates usually cost 9000 rmb or 12000 RMB but we sell for 3000 RMB."
And you: how do you recognize the official CE logo of the European Union? Have you ever seen fake laboratory CE certificate?
Keywords: