Quality Management
Monitoring Quality Control Inspectors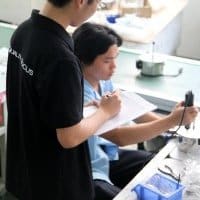 Quality Control inspectors are the most important resource for an inspection company; therefore to have reliable service, the inspectors must have the right behavior: loyal, honest, and committed. They must also be experienced, regularly trained on what they are inspecting and on the new trends and new clients' requirements. To ensure satisfactory performance the inspectors shall be monitored accordingly.
Indeed, the international reference standard for quality control inspections companies, ISO/IEC 17020:2012, requires inspection firms to have monitoring and on site observations. Companies must be compliant to this standard when performing inspections.
Below is an extract about monitoring and on site quality control requirements:
6.1.8 Personnel familiar with the quality control inspection methods and procedures shall monitor all inspectors and other personnel involved in inspection activities for satisfactory performance. Results of monitoring shall be used as a means of identifying training needs (see 6.1.7). NOTE Monitoring can include a combination of techniques, such as on-site observations, report reviews, interviews, simulated inspections and other techniques to assess performance, and will depend on the nature of inspection activities.

6.1.9 Each quality control inspector shall be observed on-site, unless there is sufficient supporting evidence that the inspector is continuing to perform competently. NOTE It is expected that on-site observations are performed in a way that minimizes the disturbance of the inspections, especially from the client's viewpoint.
In general, a Technical or Quality department is in charge of these follow ups. A technical manager shall define a plan according to the current situation and need for assessment. For example, new inspectors or inspectors who are performing their work on new product ranges or performing new services should be monitored after being introduced to the job (After a relevant training and introduction period).
The evaluation material can be defined internally or developed by a 3rd party company, a consultancy for example, for more efficiency. For AQF, for example, training materials have been developed together with a Shanghai based Training consultancy company. (The monitoring of employees performing  inspection activities is one the quality objectives of AQF. 100% of our quality control inspectors are monitored at least once a year.)
Monitoring is also if one of the most important tools of the continuous improvement strategy, which is related to another famous international standard: ISO 9001. For AQF, the close follow up of our quality control inspection teams lets us know them very well. This is a key point within the industry and especially in China, to avoid problems related to behavior or even worse, bribery. As opposed to massive inspection firms, human-sized companies like AQF are better able to keep an eye on potential problems and to ensure reliable service.
Keywords: