Inspection Process
Inspection standards for quality control in China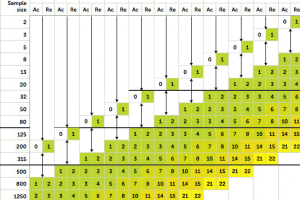 The inspection standards are tools which define acceptable quality limits, that are made understandable to all parties involved in the production process: buyer, supplier and QC company. It is important that these inspection standards are unified and applied by all parties as confirmed prior to the production launch. This article summarizes the most important inspection standards for quality control in China and Asia.
Inspection standards for quality control in China based on ISO 2859 and AQL level II (0, 2.5, 4) for Workmanship & Appearance
The most commonly used inspection standard for quality control inspections in China and Asia is the "AQL level II (0, 2.5, 4)". This is a common abbreviation to define the sample size and quality limits. It includes:
Sample size: General inspection level II
Samples picking rule: drawn from square root of cartons
Quality limits for defects per 100: critical (0), major (2.5), minor (4)
Specifications & comparison with sample
A smaller sample size serves for checking of specifications (labelling, packaging, assortment…) and to compare the production samples with the approval sample. All non-conformities are reported.
On-site tests & national regulations
An inspection should always check the usability and durability of a product. Specific tests are designed to simulate every-day usage in a short time during the inspection, including 3-M test on prints, rub test, carton drop test, use, fatigue and abuse tests…
Many on-site tests are simplifications of laboratory tests, necessary to pass import regulations in Europe and the Americas.
Inspection standards should be clearly mentioned in the buyer's purchase order which will be shared with the supplier and the QC company.
And you: which inspection standards for quality control in China do you follow?
Keywords: