Quality Management
Humidity in containers: prevention actions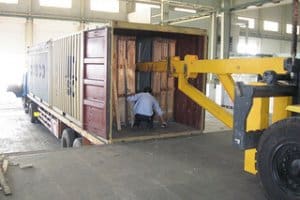 As a matter of fact even though the goods have passed the pre-shipment inspection there is still a risk to damage them during transport due to humidity in containers.
Temperature and humidity in containers
The humidity level varies depending on the temperatures, the container location on the cargo ship and the product type. This study explains those variations with case studies: "Temperature & Humidity in Ocean Containers". It is based on a good quality container – we can easily imagine that the risks increase when the container is in bad condition!
The damages related to humidity in containers
Mold and fungi appear on and in cartons. The carton material weakens and can loose its protective function.
Different chemical reactions happen at higher temperatures and in conjunction with salt from ocean spray. Metal products oxidize and look rusty. Corrosion is especially dangerous for shiny metal products – rendering them worthless.
Heat and humidity cause glue to melt. Glue running into the products is often irremovable and can damage the product basic functions.
Garments are also prone to deteriorate. It causes local loss of color and color transfers. Those defects are usually impossible to clean.
Check and prevent the humidity in containers
A quick control of the container can help to reduce the risks. Here are the different details to look at that are directly or indirectly linked with humidity issues*:
• No nail or other protrusions which could damage the cargos
• No holes or crack in walls, floor or roof
• Doors operate properly
• Closing devices operate properly
• Container is watertight (no light inside)
• Container interior is absolutely dry
• The doors and, if applicable, roof covering have been carefully closed. (Strong steel wire cables, padlocks or high security seals should be well fixed to avoid any possible re-opening as well as cargo theft).
*This check-list is part of the points that are controlled by the quality inspector during a container loading inspection.
And you: have you ever experienced quality problems due to humidity in containers?
Keywords: