Quality Management
How to avoid a failed pre-shipment inspection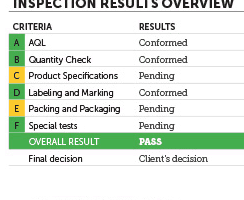 A failed pre-shipment inspection result usually involves delivery delays and financial consequences. Therefore the main question is: how do you avoid a failed pre-shipment inspection and assure the goods are ready on time according to specifications? This article lists the most important quality control tools to minimize the risks.
Selection of a reliable and capable supplier: the factory audit
Scammers and unreliable traders have flooded the markets in China and Asia. Auditing the factory is necessary to ensure to be doing business with suppliers that are legal and legitimate.
A factory audit (factory visit) performed by a professional and experienced factory auditor helps to check the factory. These auditors verify various aspects of the factory, such as its experience with the manufacturing of a specific product and to confirm whether or not the factory has a proper internal quality management system in place.
Preparation of precise product specifications
To avoid a failed pre-shipment inspection, it is imperative to clearly define the product specifications, and to share this information with the supplier, as well as the inspection company.
The product specifications are guidelines that aid the quality inspector in judging the product's quality according to the buyer's standards.
Inspections at early stages to avoid a failed pre-shipment inspection
Even with the suitable supplier and detailed product specifications it is possible to get a failed pre-shipment inspection result due to misunderstandings, cost-cutting, worker shortage, etc. To avoid it, the solution is to perform inspections at early stages:
Pre-production inspection
To confirm that the supplier understood the specifications, to check the raw material availability, conditions and conformity prior to the beginning of the production.
First article inspection
To check the first articles produced and the production speed conformed to the ones agreed upon. In case some nonconformities are found, it is just a question of correcting them while producing which avoids production delays.
During production inspections at 30%, 40%, 50%, 60%
To follow up the production speed and to check at every stages whether or not the quality of the goods meets the buyers expectations. At every stage, such inspection allows to correct the nonconformities on the production line and check that they have actually been corrected without delaying the delivery.
The pre-production, first article and during production inspections detect nonconformities early. They allow the supplier and the buyer to react quickly without unaffordable financial consequences, and to deliver the expected goods quality on time or with a reasonable delay.
And you: which steps do you take to avoid a failed pre-shipment inspection?
Keywords: