Purchase Process
Hailing a Taxi in Shenzhen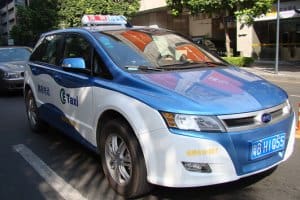 During a business trip in Asia we usually visit Hong Kong as well as other cities in China such as Shenzhen. Last week we learnt the basic rules for hailing a taxi in Hong Kong successfully. Is hailing a taxi in Shenzhen working the same way? It is pretty straight forward. We just need to stand next to the road and lift our arm. Every taxi has two lights: a small red light inside, and a big taxi sign on the rooftop. The lights are on when the taxi is available for passengers.
Shenzhen Taxi refused to take me!
There are places where taxis are forbidden to stop. These places include a defined area around train stations, airports and other large public hubs.
Taxis parked (waiting) outside of the station can be fined. Drivers usually ask for a 100 RMB bribe or extra-long rides of over 2 hours. At the facilities, you will usually be able to spot signs indicating the path to the taxi stand
The taxi was occupied  (only when the red light is on the taxi is available)
Taxi Stands at LuoHu / LoWu border and train station
At Shenzhen LuoHu / LoWu border (same as LuoHu train station), the only taxi stand is located in the basement level at metro (MTR) exit B. It is always crowded as is it inappropriately sized.
What kind of alternatives are available?
– We just need to walk to the Shangri-La hotel and pretend to be a guest. They will ask for the room number though.
– We can pay 100-1000 RMB to bribe a taxi driver
– We have somebody to pick us up
Some tips for a safe trip in taxi:
Always fasten your seat belt. Riding a taxi in Shenzhen really is an adventure.
Red taxis charge an additional 3RMB fuel surcharge
Take the

blue

taxi! It's cheaper, faster and a great demonstration of electric vehicles.
Source: china-briefing.com
Keywords: