Purchase Process
Hailing a Taxi in Hong Kong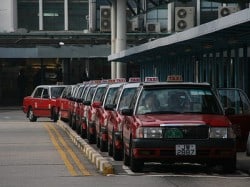 When visiting suppliers or trade fairs in Hong Kong we usually need a taxi to move from one point to another. Most of the taxis are very comfortable and clean. Hailing a taxi in Hong Kong is quite easy: stand at the curb, lift your arm and a taxi will stop. However there are some basics to know in order everything goes well.
Taxi in Hong Kong refused to take me!
There are places where taxis are forbidden to go or to stop. These places include double-yellow-line street segments. (see picture on the right)
Taxis cannot stop at single-yellow lines between 7am and 7pm
The taxi was occupied (only when the red light is on the taxi is available)
Taxi Stands at Hung Hom border and train station
For travelers on the East Railway Line from Shenzhen or Guangzhou, there are taxi stands at the exit C (1,2,3). Please note that taxi drivers will probably not pick up passengers at other places near the station.
Another convenient mode of transport are buses that run from Exits A and D (same buses).
Some tips for a safe trip in taxi:
Always fasten your seat belt
Always bring cash! That's the only payment method usually accepted
It's advisable to bring an address written in traditional Chinese. Most taxi drivers also understand addresses in English though
 And you: do you have any other tip you would like to share with us?
Keywords: