Testing and Standards
GSM testing method and product inspection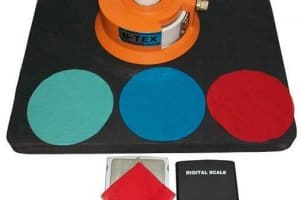 The GSM testing methods are used to measure the material mass (or density) per square meter. GSM comes from "Gram per Square Meter". It is a standard unit of measurement commonly used all over the world, even in countries where the usual unit of measurement is the pound (U.S.A). The reason is that the GSM testing methods are the most accurate ones.
GSM testing methods: industries and products concerned
The textile industry is using this test all the time. However the GSM testing methods also apply to other products such as the acrylic sheets, aluminum and foils, cotton bags and luggage, plastic made products, paper and leather, blankets, belts, foot ware, packaging materials, boxes, polyester & BOPP films, home furnishing items, Teflon products, thermal paper, even toilet paper!
GSM cutter and weighing scale
The GSM tests are more or less the same even if the product is different. It exist different GSM cutters depending on the material we want to cut. Apart from that the method consists in cutting a circle of material from 10 to 100 cm² to check its weigh. Two tools are used : a GSM cutter (also called "round cutter") and a weighing scale.
I.e.: during a textile product inspection, the inspector cuts in circle 10 pieces of material with the GSM cutter for textile in order to get the weigh per square meters.
Why determining the material gram per square meter is important?
In a normal situation, the approval samples quality could be slightly different from the production quality. The reason is that they are made with the material available on the market. Unfortunately it is very common that the approval samples quality are much higher than the production samples inspected. The difference limit should be defined by the buyer at the time of the order confirmation and applied by the inspector during the product inspection.
And you: do you use the GSM testing method to check your products quality level?
Keywords: