Processus d'achat
Qualité des produits fabriqués en Chine, « made in China »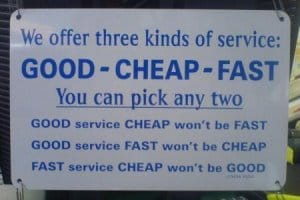 Combien de fois avons-nous entendu : « c'est un produit fabriqué en Chine, il est économique et de mauvaise qualité » ? Au fil des années la réputation de la qualité des produits fabriqués en Chine s'est empirée. Les scandales à grande échelle, au niveau national et à travers le monde ont renforcés les opinions. Cependant cette réputation est partiellement vrai de nos jours.
Good, cheap and fast, « qualitatif, économique et rapide »
La photo ci-dessus illustre clairement les raisons pour lesquelles les produits fabriqués en Chine, made in China, peuvent être de si mauvaise qualité. Rapide, économique et de qualitatifs sont trois adjectifs incompatibles. L'un est toujours sacrifié pour l'autre :
Des produits de qualité à un faible cout sont habituellement associés à des fabrications lentes : avec moins d'ouvriers et plus de temps pour faire attention à la production.
Des produits de qualité associés à une livraison rapide engendrent toujours des couts supplémentaires : le fabricant a besoin de plus d'ouvriers qualifiés pour garantir la qualité des produits dans un délai réduit.
Un service rapide associé à un produit économique est habituellement synonyme de problèmes de qualité. Dans le cas contraire, l'acheteur peut se considérer chanceux.
Réalité actuelle de la qualité des produits fabriqués en Chine, « made in China »

Cet article : « Chinese smartphones could be helping to ease the 'Made in China' stigma », montre la problématique à laquelle se confrontent les fabricants chinois : ils sont perçus comme des fabricants de produits de faible qualité. Cependant, cette image est erronée, toutes les qualités de produits peuvent se sourcer en Chine:
L'industrie des smartphones fabrique en Chine, en particulier des marques reconnues.
Les marques de luxe aussi fabriquent leurs produits phares en Chine.
Les produits de consommation courante de haute qualité sont souvent produits en Chine.
Les fabricants chinois ont dû passer par de nombreuses étapes avant d'être capable de fabriquer des produits de haute qualité. Ils ont eu besoin d'acquérir le savoir-faire, de former du personnel qualifié et de développer les infrastructures adéquates.
Les acheteurs peuvent se fournir en produits de qualité en Chine, tout dépend des conditions requises aux fournisseurs. Néanmoins, d'autres facteurs affectent la qualité, au-delà d'un prix correct et un délai raisonnable. L'acheteur se doit de régulièrement auditer les usines et d'inspecter la qualité des produits lors de leur fabrication, et avant leur embarquement.
Et vous : quelles sont vos attentes en terme de qualité des produits fabriqués en Chine ?
Keywords: