Processus d'inspection
La liste de contrôle QC: un 'must' pour les importateurs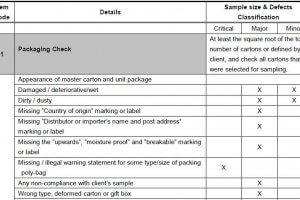 Après de récentes rencontres avec des clients, j'ai remarqué que beaucoup méconnaissent le terme de « QC Checklist » (liste de contrôle QC) dans le processus de QC. Ce mot est souvent utilisé à tort, alors quelle est la définition réel et qu'est-ce qu'une liste de contrôle QC contient?
Appelé par certains le manuel qualité, le guide qualité du produit, le plan de contrôle qualité, ou la liste de conformité par d'autres dans l'industrie c'est simplement appelé la checklist QC ou bien liste de contrôle QC.

Avant de nous plonger dans la liste elle-même, laissez-moi vous rappeler tout ce qui est vérifié lors d'une inspection standard:
AQL (Aspect cosmétique de votre taille d'échantillonnage)
Quantité (fini et emballé, fini et pas emballées, pas fini)
Caractéristiques du produit (taille, largeur, couleur, poids, etc)
Étiquetage et marquage
Emballage et conditionnement
Test sur place
Plus d'informations sur le contenu d'une inspection ici:
https://www.asiaqualityfocus.com/resources/glossary
Retour à la liste de contrôle: elle doit être partagé avec toutes les parties concernées dans votre processus de fabrication (à la fois votre fournisseur et votre partenaire de contrôle qualité) et doit être mis à jour régulièrement en fonction des situations confrontées. Elle permet à votre agent de contrôle qualité de comprendre vos besoins, et permet à l' inspecteur de procéder à une inspection efficace. Idéalement, elle peut être traduit dans la langue locale afin de réduire encore plus le risque de malentendus avec votre usine.
Qu'est-ce une liste de contrôle QC contient?
Tout ce qui permettra à quiconque de comprendre votre commande, votre
produit, vos attentes. N'imaginez pas que votre usine ou votre
partenaire de contrôle qualité comprendront votre produit et vos besoins
sans liste de contrôle QC détaillée et organisé! Voici quelques exemples de ce qui
devrait se trouver à l'intérieur:
La quantité et la date de livraison (ETD) prévue.
Photos de vos produits et si possible de ses défauts précédents que vous avez rejeté.
Spécifications de vos produits: ce que le paquet doit contenir (1mug, 1 cuillère, etc ), la taille, le poids, ect.
Conditionnement (A quoi le paquet devrait ressembler, chaque élément doit être emballé dans un sachet avec un carton de cette taille, ect.)
Les couleurs Pantone utilisés (voir notre article).
Codes à barres: types de codes à barres, sur l'emballage et chaque produit (avec des images).
Cosmétiques des produits: Logo, étiquetage et de marquage, ect.
Tests sur place nécessaires: par exemple, essai de chute de produit (drop test) doit être effectué par la société d'inspection pour chaque inspection.
Vos exigences particulières: tout ce qui est supplémentaire que vous pouvez ou ne voulez pas voir sur vos produits.
En outre, à côté de votre cahier des charges, emballage ect… votre checklist doit contenir vos classifications de défauts : qu'est-ce que vous considérez être un défaut majeur, mineur ou défauts critiques (votre 3PQC doit être en mesure de vous conseiller sur ces points si besoin, sachant que nous suivons généralement la « définition officielle de défauts et anormaux  » (official definition of defects and defectives).
Cette liste n'est pas exhaustive, mais n'oubliez pas que vous êtes le seul qui connaît le mieux vos produits afin de partager vos connaissances expérimenté! Ne pensez pas que quelqu'un va prendre quelques points juste car ils sont « de bases » ou « logiques ».
Dernier point le plus important: il est important de noter que toutes les sociétés d'inspection et agents QC n'examineront pas toutes vos spécifications et ne digérerons pas toutes les informations afin de préparer un protocole d'inspection pour ses inspecteurs. Plusieurs grandes entreprises d'inspection transmettront simplement vos spécifications directement à l'inspecteur par email, en espérant qu'elles seront facile à digérer pendant le trajet en bus par exemple! Vous pouvez en savoir plus sur la façon dont fonctionne les sociétés d'inspection ici (here).
Keywords: