Inspection Process
Final random inspection at a warehouse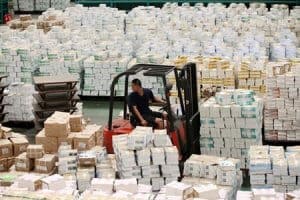 When buying from trading companies in Asia, buyers are often asked to perform the quality control inspection at a warehouse. This solution is best to be avoided because there are many factors that affect the reliability of a final random inspection at a warehouse in China. Nevertheless if that's the only choice offered to the buyer it is better to perform some quality control than none.
Loss of reliability of the final random inspection at a warehouse
In general, warehouses are designed as storage. Cartons are stacked high and densely. Many constraints cause the final random inspection at warehouses to be less reliable:
Too little space for the inspection
Often not enough light
No help for inspectors: moving boxes, unpacking
No measurement tools available for on-site tests
Unprofessional repacking after the inspection, no spare cartons
Risks when the result of the final random inspection at warehouse is "FAIL"
When the final random inspection is performed at the factory, the quality control inspector can show and explain the defects to the supplier's management team to make sure they understand them and improve the quality if required by the buyer or take them into account to avoid them in future productions. Learning from mistakes is the most important factor for a successful business relationship.
When the inspection is at a warehouse, hundreds of kilometres away from the factory, there's no manager, no QA staff and not even a factory worker. Therefore, the factory will only know about defects if they read the inspection report – which is highly unlikely if the importer is dealing with a trading company. In case of a need of reworking/replacing the goods, the costs for the factory will be very high, the buyer may have difficulties to get what he wants. Moreover, it involves a lot of delivery delay: goods should be sent back to the factory before to be reworked and sent back again to the warehouse.
If the inspection result is "failed", then the goods should be shipped back to the factory for reworking or replacement which takes a couple of days, cost more money for the supplier and delays even more the shipment date.
And you: what is your experience of performing final random inspection at a warehouse in China?
Picture from wantchinatimes.com
Keywords: