Proceso de compra
Calidad de los productos fabricados en China, «made in China»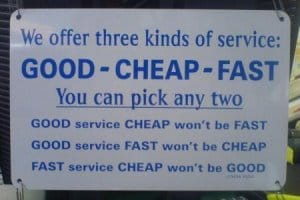 ¿Cuantas veces hemos escuchado: «es un producto chino, económico y de mala calidad»? A lo largo de los años la fama de la calidad de los productos fabricados en China ha empeorado. Los escándalos a gran escala, a nivel nacional e internacional han reforzado las opiniones. Sin embargo, hoy en día esta fama se justifica parcialmente.
Good, cheap and fast, «cualitativo, económico y rápido»
La foto ilustra de forma muy clara las razones por las cuales los productos fabricados en China, pueden ser de mala calidad. Los tres adjetivos rápido, económico y cualitativo son incompatibles. Uno está siempre sacrificado para el otro:
Aunque sea difícil conseguir, los productos de calidad a bajo coste necesitan ser producidos lentamente: con menos recursos y más tiempo para prestar atención a la fabricación.
Productos de calidad conseguidos con un plazo de entrega rápido tiene siempre como consecuencia un aumento de los costes: el fabricante necesita más mano de obra calificada para garantizar la calidad de los productos y el plazo.
Un servicio rápido asociado a productos económicos suele ser sinónimo de problemas de calidad. En caso contrario, el comprador es un afortunado.
Realidad actual de los productos fabricados en China, «made in China»

Este artículo: «Chinese smartphones could be helping to ease the 'Made in China' stigma«, explica la problemática con la que se enfrentan los fabricantes chinos: están percibidos como proveedores de productos de baja calidad. Sin embargo, esta imagen es errónea: se puede conseguir cualquier tipo de calidad de productos en China:
La industria de los smartphones fabrica en China, en particular marcas reconocidas.
Las marcas de lujo también fabrican sus productos en China.
Los productos de consumo de alta calidad son a menudo fabricados en China.
Los fabricantes chinos han tenido que pasar varias etapas para saber fabricar productos de alta calidad. Han tenido que adquirir el know-how (o saber-hacer), formar el personal cualificado y desarrollar las infraestructuras adecuadas.
Los compradores pueden proveerse de productos de calidad en China: todo depende de las condiciones requeridas al proveedor. Aun con un precio correcto y un plazo razonable,  otros factores pueden afectar la calidad. En consecuencia, el comprador debe regularmente auditar las fábricas y inspeccionar la calidad de la mercancía durante la producción y antes de su embarque.
Y usted: ¿cuáles son sus expectativas en cuanto a la calidad de los productos fabricados en China?
Keywords: