Inspection Process
Drop test of loaded containers (cartons), ASTM D5276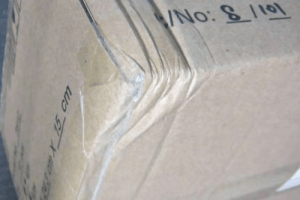 ASTM D 5276 – 98(2009) is a standard test method for drop test of loaded containers (cartons) by free fall. It is the reference for the ISTA 1A procedure which falls under the shock test category. Quality control inspection companies often simply refer to it as the carton drop test. This test method forms part of almost all inspections. While the outer carton almost always deforms, the products may still be protected from breakage. General guidelines exist but the importer is usually asked to define what is acceptable – and what is not.
Why perform a drop test of loaded containers?
An inspection reflects the quality of products during the inspection – before loading, shipment, unloading and distribution. During transport, cartons are subject to shock, vibration, humidity and pressure. If the carton does not protect the products well enough, damage during transport may occur.
A carton drop test of loaded cartons of products can determine whether products will be damaged under certain conditions. It is also up to the importer to define whether unit packaging may be damaged or must stay visually intact.
Suppliers rejection of the drop test of loaded containers
Many supplier refuse to perform a carton drop test during inspections. Of course, there is a risk of products being damaged and having to be replaced… but if that's the case, the importer runs the risk of receiving a container full of broken/damaged goods.
Some suppliers argue that their cartons/goods are too heavy however, the standard limits the weight up to 50 kg (110 lb). And depending on the actual weight, the drop height is adapted to ensure fair conditions.
Shortcomings of the drop test of loaded containers
ISTA 1A is a procedure designed to challenge the strength and robustness of the product and package combination. It is a "non-simulation" procedure, which means that the test is performed under a controlled environment. The same applies to ASTM D 5276. Therefore, environmental influences as present in a container are not taken into account:
humidity and temperature
pressure from cartons above and sides
vibration
mould and many more
And you: do you include conformity with ISTA 1A in your purchase orders?
Keywords: