Quality Alerts
Culture of India: Janmashtami day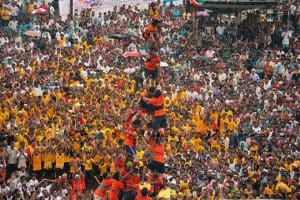 Today is the Krishna Janmashtami day, a public holiday in Hindu countries. This religious event is as important as the Chinese New Year or Christmas, particularly in Indian cultures. The festival celebrates Krishna's (the god of all hindouist) first appearance on earth.
Happy Krishna Janmashtami day!
It is one of the biggest celebrations in the world with nine hundred and thirty million people celebrating. We are all regularly in contact with Indian and Bangladeshi suppliers, inspectors and buyers. To improve our relationships with them, it is good to learn about their culture.
Culture of India: traditions and Human pyramids
All devotees usually follow a set of traditional ceremonies during that day. Hindus visit temples to pray to the lord. They also organize praying rooms at home with the family.
The homes are decorated with flowers and mango leaves. Miniature dolls representing Krishna's birth are made and used as decoration. Children usually involve in the handcrafting of the ornaments. Women cook milk based sweets of all kinds to offer them to the Lord as it is believed that he was a milk lover.
In my opinion, the most surprising act of the culture of India during Janmashtami day is the Human pyramid. It represents the legend of Krishna stealing makhan (butter) or dahi (curd) and being punished by his mum. Groups of persons, called Govinda, climb one onto the other to create a pyramid. They aim to break the Dahi handi (a clay pot filled with buttermilk, dry fruits, etc.) hung very high above the ground. This activity is considered as a sport in India, a lot of training is necessary to succeed.
And you: do you know something else about the culture of India that you would like to share with us?
Photo source: tripcrafters.com
Keywords: