Testing and Standards
How to comply with EU vacuum cleaner regulation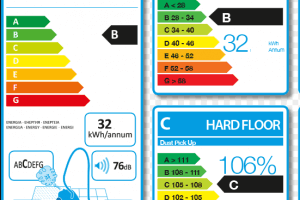 The European Union has introduced labelling requirements and power restrictions on vacuum cleaners, starting on September 1st, 2014. The new regulation affects the maximum electrical input power. While this is a challenge primarily for manufacturers to design more efficient vacuum cleaners for the EU, importers are more interested than ever to test the claims of manufacturers. What are the EU requirements and which tools can help importers to comply with EU vacuum cleaner regulations?
European Union regulations on vacuum cleaners
The new regulation concerning power consumption of vacuum cleaners and labelling complements older regulations on safety. Here's a video about the new label, which must contain the following information:
Power
Performance (ability to pick up dust)
Energy efficiency
Dust re-emission in the exhaust air (particularly important for people with asthma)
Noise level
Durability (no early failure of the hose or the motor)
Consumers therefore will get much more information about the vacuum cleaner they buy. In addition, their machines will consume less:
Sept. 1st, 2014: maximum 1600 Watts input power
Sept. 1st, 2017: maximum   900 Watts input power
How importers comply with EU vacuum cleaner regulations
For importers to ensure their products meet all regulatory requirements and are safe, here are some adices:
Suppliers should be audited to understand if the manufacturer is legitimate, legal and has experience with vacuum cleaners. Add as special checkpoint that a machine to measure suction power is available.
The product specifications should be well detailed in the PO. This includes requirements on the power consumption, noise level, application of label, etc.
The product should be tested in a recognized laboratory. .
The lot to be shipped to the EU should be inspected to check if specifications have been met.
On-site tests performed during a vaccum cleaner inspection is the importer's last chance to ensure to comply with EU vacuum cleaner regulations.
And you: how do you react to comply with EU vacuum cleaner regulations?
Keywords: