Quality Management
Check quality before shipment, not after delivery!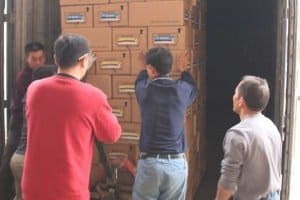 One of the mistakes of first-time importers is to check the quality of their products after delivery. Unfortunately, if the goods are not acceptable, it is too late to do anything.
Not only are they unable to sell these goods, but they can't even ask the manufacturer for a refund. Sending defective goods back to China, for example, is forbidden. The supplier will usually say "all we can do is give you a rebate on your next purchases"… but do you want to reward them with more orders?
The only way to get a refund is to have a proper contract, that is enforceable in the manufacturing country and chopped by your supplier, and that details the product specifications clearly. Oh, and the supplier has to be able to fork out that amount of cash. Good luck…
Fortunately, there is an easy way to avoid this kind of risks. As Mike Bellamy, from the China Sourcing Information Center, puts it:
During my 10+ years in China I have been preaching that if buyers remember only one thing when it comes to China sourcing, it should be that you are crazy not to perform some type of inspection on the product before you make the final payment and BEFORE the goods ship out of China. Keeping in mind that inspection only costs a few 100 USD, it should be a no-brainer to add this tool to the buyer's sourcing toolbox.
If you find problems while the goods are still in the factory, you can withhold payment and ask for repairing. That's when you have leverage. After you have paid the whole order, the supplier might refuse to do anything.
Another advantage is that you show your supplier what is acceptable and what is not. Sending them photos of the defects you found only goes so far — they are seldom shown to the technicians who follow production on the factory floor. On the other hand, when an inspector points to problems, everybody is aware of it.
The most common type of quality inspection is the pre-shipment inspection. It takes place before final payment, and at least 2 days before the goods are loaded in the container (because you want to be able to block the shipment if quality is not acceptable).
But there are other choices as well, depending on the risks inherent to your situation: see when to do Product Inspections?
Keywords: