Purchase Process
Warning: Dont mess with Bangladeshi suppliers!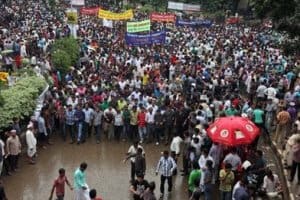 In a few recent visits of Bangladeshi suppliers , both by company management and inspectors, AQF's team found young children working in these factories. While not too surprising in a developing and relatively chaotic country, this of course is a serious issue for these factories, and one that is not to be taken lightly.
A few months ago, we started a discussion in a Bangladesh clothing industry group on Linkedin, to discuss the prevalence of child labor in Bangladesh, as presented by my colleague Sandrine in her article  " Children Working in Bangladesh: what buyers need to know". Our desire was not to smear the Bangladeshi textile industry, but rather to shed light to an important issue.
Little did we know what a fierce reaction we would encounter. Within a matter of weeks, we had over 100 angry posts from Bangladeshi suppliers, using rather profane language and suggesting that the claim of child labor is absurd. When presented with video evidence from a personal visit, more aspersions were cast. These Bangladeshi factory reps went so far to say that we had faked the video and planted child employees just to make some kind of point. The wrath of these men and women was shocking, because AQF's success in Bangladesh clearly relates directly to the success of the textile industry.
Surely, nobody wants the dark secrets of their industry revealed, but these are true issues that must be fixed for Bangladesh to improve and compete with its Asian rivals.  However, all pride and hypocricy must be cast aside in order for improvements to be made. This is not to say that buying from Bangladesh is inadvisable; however it is clear that proper supervision must be given in order to secure your supply chain.
Keywords: