Inspection Process
AQL Special Inspection Levels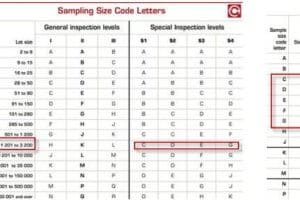 Already, we have introduced AQL in general and discussed the standard inspection levels. But how do inspection companies do other testing outside of the normal AQL (cosmetics) and how do they select the number of samples needed?
For example, these tests could include:
Seam testing
Special wear testing
Electrical Hi-Pot testing
In these cases, "special testing" may be done at the factory during the inspection. To find how many samples must be picked for these tests, we can use the right side of the same AQL chart used for standard inspections! Using the "special inspection levels" we can find the sampling code corresponding to the special sampling levels (S1-S4), and then at the left in the 2nd chart, we can determine the sampling numbers of these tests.
Generally, these tests alter the appearance, functionality or durability of the products, so relatively few compared to regular AQL inspection levels are checked. For example, when looking at the chart above, if you had a lot size of 1500 pieces, you may only check 5-32 pieces.
If a test is destructive, the sample will be destroyed and cannot be reused. In this case, we will almost always choose an S1 level (like seam testing shown here). If the test consumes too much time, it will also likely be at an S1 sampling level.
For some critical tests involving safety issues, 100% of the AQL sampling may be checked (like in Hi-Pot testing), but at least an s3 or s4 level would be recommended.
Any questions? Leave them in the comments section below!