Inspection Process
AQL Inspections & Helpful Information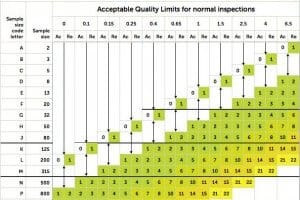 AQL Inspections & Helpful Information. AQL (ISO 2859-1 (ANSI/ASQC Z1.4-2003)) helps minimize the amount of time (and money) spent on quality control while maximizing efficiency, based on scientific calculations. Almost all major importers, manufacturers and most governments apply this standard. At AQF, we often get asked, which information is necessary to provide for an inspection, so that we can assure that you receive exactly what you have ordered.
Helpful info for inspections using AQL:
Quantity
Specifications list, (including size, weight, color, etc)
Labels & logo details,
Packing and packaging requirements
Defects and "non-conformities" definitions (Note: These can vary widely from one importer to another)

Minor defect: Defects that are unlikely to reduce the use of the product, but its workmanship does not meet the defined quality standard, and may influence the sales value.
Major defect: Defects which could result in reduced usability of the product and/or obvious appearance defects that would affect the saleability of the product.
Critical defect: Defects which could result in hazardous or unsafe conditions for individuals using or maintaining the product as well as defects contravening legal regulations.

Three inspection levels: I, II and III are given in Table I for general use. In general, Inspection Level II is the most commonly used.
Level I: when less discrimination is needed
Level III: when greater discrimination is needed
100% inspection: when no defect is allowed or for sorting.
You can also give us time limits (ex. 1 Man-Day), which will limit the number of tested specifications and/or pieces. This is not recommended. AQL Special Inspection Levels (1-4) will be used for special testing needs, (for example, Hi-Pot, zipper function, rub test and some destructive tests). Because with AQL sampling higher lot sizes correspond to generally lower percentages of sampling sizes, for orders over 50,000 pieces, we always recommend that importers split into several inspections because the sampling size may be not so representative of such a large order.
What information, for example, will AQF carry forward to the inspection preparation? 
AQF specialists draw up a spec list based on pictures, golden sample and many years of experience.
AQF specialists define "defects" and "nonconformities" based on your general instructions (e.g. "be very strict" or "we don't care about scratches"), experience with the product, destination country, and common sense. Based on this information, we select the most common test methods.
We recommend Level II as a good balance between budget constraints and quality risks.
Considering your batch size, we use the ISO 2859-1 (ANSI/ASQC Z1.4-2003) standard to define, how many randomly selected pieces will be inspected and tested. Based on this information, we predict the number of Man-Days necessary.
Keywords: