Purchase Process
5 Reasons to Perform a Manufacturing Audit in Asia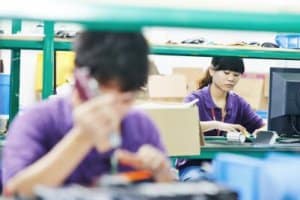 A Manufacturing Audit is a comprehensive yet cost-effective way to make sure your vendor is reliable and offers quality products whether you're just beginning to work with a factory or want to assess or re-assess an existing supplier. Based on the ISO 9001 standard, supplier evaluations include many additional benchmarks, giving you robust insights to the way the factory is managed. Before you place any order, learn why a manufacturing audit can save you from making a huge mistake by choosing the wrong factory.
Verify Supplier Legitimacy
Working with suppliers in Asia comes with risk, but a factory audit from a reputable quality control firm minimizes uncertainties. It's difficult to verify a supplier's claims from a distance, in particular without having industry knowledge. A manufacturing audit can ensure that the factory is legal and has all the necessary certification and licenses to be able to sell and export goods.
Confirm Supplier's Product Expertise
A manufacturing audit gives you an inside look at the factory's showroom without having to step foot inside. A quality control auditor verifies the machines to find out whether or not the factory has the capacity to produce your product internally. If some parts are missing, sub-contractors may be involved. Even if you're OK with that, you still have the right to know how and where your products are produced.
Check the Factory Capacities and Organization
An in-depth supplier evaluation confirms that a factory can indeed meet the production lead-times you initially received from the vendor. The auditor checks the supplier's storage capacity, which can greatly impact the quality of your goods. For example, products stored outside could be affected by bad weather. If semi-finished and finished products are stored in the same area, they may accidentally be loaded together. A manufacturing audit also tells you how management is organized so you know who makes decisions and solves problems — and most importantly, who you should talk to for negotiations.
Authenticate the Factory Quality Management System
The quality management portion of the manufacturing audit confirms that the factory has the necessary processes in place to ensure the quality of your final product. The auditor checks how your specifications are reviewed and taken into account, the way goods are controlled during production, and how the machineries are calibrated over time to guarantee the same efficiency and quality result. There are key quality indicators for all relevant functions at every organizational level to make sure no detail goes unnoticed.
Verify the Supplier's Social Accountability
Your manufacturing audit provides a thorough review of the factory to make sure that at an administrative level, all documents conform to the local regulations. As per the SA 8000 standards, the auditor reviews HR records and even interviews managers and workers to confirm the factory's work environment. You'll receive verified proof that the working environment is clean, and the conditions are acceptable.
AQF offers two kinds of factory audit services to evaluate suppliers, a simplified version called a Simple Factory Audit and an in depth version called an Extensive Factory Audit. Depending on your objectives we may recommend one or the other.
And you: what are your reasons to perform manufacturing audit?
For a deeper understanding: Supplier requirements for a factory audit based on ISO 9001.
Photo credit: kadmy / 123RF Banque d'images
Keywords: